Metal thieves target Victorian attraction in Llandudno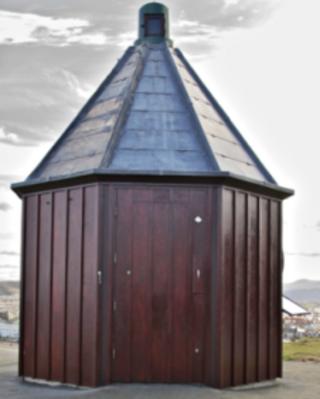 Thieves have targeted a Victorian tourist attraction for the second time in two years to try to remove lead from the roof.
It is believed the Llandudno Camera Obscura - a dark room where a 360 degree view of the town is projected onto a table - was hit on Friday night.
Mathew Shields, who looks after the building, said it was on the edge of the town centre so susceptible to theft.
North Wales Police are investigating.
Mr Shields said the thieves approached from the back of the building, where they could not be seen, and took exactly the same panel as they took two years ago.
"We used a lead sealant when we repaired it last time, so they've had to rip at the roof like a piece of bread. It won't have done them any good," he said.
The camera obscura is a Victorian invention, and uses a series of lenses to project an image of the surrounding scenery onto a screen.
Metal theft
The Llandudno camera obscura is one of only seven left in the UK.
The present building was built to celebrate the millennium and replace one destroyed by fire in 1966.
Mr Shields added: "Metal theft is so commonplace at the moment, but there's not much you can do except repair the damage.
"They tried to take other panels, but I think the effort they've had to go to this time will make them realise it's not worth their while."
A spokesperson for North Wales Police said anyone with information should contact them on 101.