The bell of sunken Anglesey ship Conargo goes on show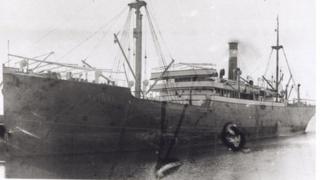 The ship's bell from the wreck of a steamer sunk in World War I off the Anglesey coast has gone on display in an exhibition of divers' finds.
The Conargo was hit by German U-boat torpedoes as it approached the Calf of Man, off the Isle of Man, on Easter Sunday, 1918.
Ten of the crew died in a lifeboat awaiting the order to abandon ship. Other crew escaped in separate boats, reaching safety at Dublin and Holyhead.
The show is in Cheshire on Saturday.
After the attack the ship, originally named the Altona, was being towed towards Holyhead when it was hit again and sunk.
The bell of the Conargo was brought to the surface in 2003 by Simon Rodger, a member of the Hazel Grove Sub Aqua Club, Stockport, which has organised the exhibition, including 40 ship bells, lamps, helms and other artefacts sourced from divers' finds from around the UK.
"I only ever see myself as a custodian of objects like the bell," he said.
Sea bed
"They will stay with me until I pass them on to my children and if that is not possible, then I will find a museum for them because they are an integral part of maritime history."
The cargo ship was en route from Liverpool to New Orleans to collect wheat for the UK.
It remained afloat the first time it was struck and a nearby armed yacht, the Vanessa II, is thought to have gone to the rescue.
During an attempt to tow it back to Holyhead, the Conargo's anchor released itself and the ship became fixed to the sea bed.
While stationary, it was hit for the final time and sunk on 31 March, 1918.
From his research, Mr Rodger believes the Conargo was built in 1902 at a German shipyard.
It sailed between Hamburg and Australia before being captured by the Australian navy when war broke out and then used by the former British Shipping Controller and then sent on what was to be its final voyage.
The bell, which weighs 93lb (40kg), is in the exhibition at Brookdale Social Club, Bramhall, Stockport, Cheshire on Saturday.