£9.3m Ysgol yr Hendre opens doors to pupils in Caernarfon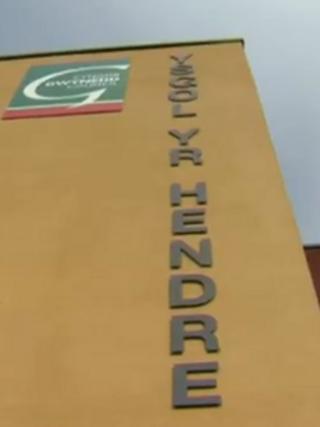 An environmentally-friendly new school has opened in Gwynedd, with hopes it will generate half its energy needs.
Ysgol yr Hendre in Caernarfon will use wind turbines and solar panels, and also recycle rainwater.
The £9.3m building includes a glass corridor, which will be used as a greenhouse.
As well as room for up to 450 primary pupils, it also has facilities for adult education, health, and social welfare initiatives.
Pupils were consulted about the design, and the school's green credentials have already earned it an industry standard award.
Councillor Roy Owen, the school chairman, said the building was something to be proud of.
"It's much more than a school. The fact that it is also home to facilities that provide adult education, health and social welfare initiatives, as well as cultural and sporting activities means that it really is the beating heart of the local community," he said.
Construction methods at the school, which replaces an outdated previous building, means the building will keep warm in the winter and cool in the summer.
This should lead to reduced heating costs, and a reduction of up to 60% in carbon emissions during the building's lifetime.
"The new Ysgol yr Hendre building is the most recent school building project as the council strives to provide facilities which meet the demands of a 21st Century curriculum," said Councillor Liz Saville Roberts, who leads on education for Gwynedd council.
Plans for a footpath across Llanbeblig cemetery to reach the school were put on hold after local opposition.
"Ensuring that all Gwynedd's children and young people have the best start in life is a key priority for us as a council," said Gwynedd council leader Dyfed Edwards.
"Ysgol yr Hendre is a great example of a real team effort between Gwynedd Council, the Welsh Government, the school itself, its governors and the wider community to achieve this aim."
He added: "This flagship project will mean that children from this part of Caernarfon will now benefit from being educated in Wales' most modern school."