North Wales Police chief Mark Polin partly blames economy for crime rise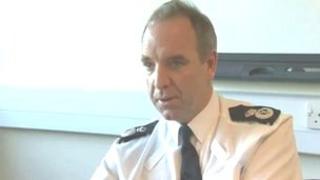 The chief constable of North Wales Police says the economic climate is partly to blame for a rise in crime.
Mark Polin revealed crime as a whole is up by 3.2%, but cases of robbery and burglary have risen by 13.2%.
Delivering his annual report, he said the force still had the sixth lowest level of such crimes in Wales and England.
"Some people out there are turning to stealing things because they can't afford them any more," he said.
"As quickly as we can lock them up, there's more coming," he told a meeting of the police authority, which helps to manage the force's funds.
Lowest level
But Mr Polin also said that the North Wales Police area had the lowest level of personal crime - such as assault, serious assault, robbery - in Wales and England, and the second lowest level of household crime.
Across Wales, according to figures released on Thursday.
But statistics compiled by the UK Crime Stats website show overall crime in Wales down 17% in December 2011 compared to a year earlier.
However, recorded cases of burglary increased from 1,483 to 1,781, BBC Wales' Dragon's Eye has found.