Porthmadog measles outbreak: vaccination for Urdd urged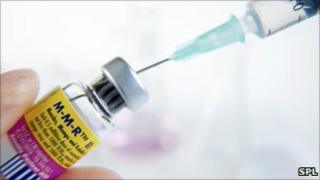 Health chiefs dealing with a measles outbreak in Gwynedd have urged parents to vaccinate their children ahead of heats for the Urdd Eisteddfod.
Thirty-three children have been diagnosed with measles in Porthmadog, with 29 of the cases from Ysgol Eifionydd School.
Hundreds of children are expected to take part in Eisteddfod heats in Porthmadog in the coming weeks.
The main national competition will be held near Caernarfon in June.
Public Health Wales (PHW) said the majority of the measles cases had either had no MMR vaccination or only one dose.
'Large gathering'
Doctors in the area are offering vaccinations to children who have not had both doses, which is the only protection against the virus.
Dr Roland Salmon, consultant epidemiologist at PHW, said: "We are basically advising anyone who takes part in an Urdd Eisteddfod heat, or any other large gathering of young people of that sort of age, to make sure they've had two MMR vaccinations.
"It's entirely possible to avoid measles if you take these precautions."
An Urdd spokeswoman said local heats were taking place all over Wales.
They are followed by county heats before the national competition is staged between 4 and 9 June near Caernarfon.
She said that some 35,000 young people were involved in these competitions, but it was difficult to say exactly how many would be competing in the Porthmadog heat.
"We're talking in the hundreds," she added.
"We don't feel there's anything we can add to what Public Health Wales have said, and we will take guidance from them."
PHW and Betsi Cadwaladr University Health Board are urging parents in north Wales whose children have missed one or both of these doses to ensure their children are vaccinated with MMR.
If parents suspect their children are unwell due to measles they are asked to contact their GP or NHS Direct Wales on 0845 4647.