Porthmadog measles outbreak: Total cases now number 33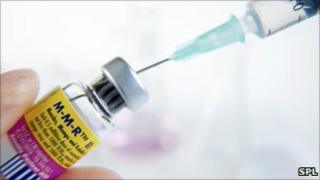 A further three children have been diagnosed with measles in Gwynedd, bringing the total number of cases to 33.
Health chiefs said 29 of the cases were associated with an outbreak at Ysgol Eifionydd School in Porthmadog.
The other four live in the same area, but have no direct links to the outbreak at the school.
Public Health Wales said the majority of the cases had either had no MMR vaccination or only one dose.
Doctors in the area are offering vaccinations to children who have not had both doses, which is the only protection against the virus.
Judy Hart, consultant in communicable disease control for Public Health Wales, said: "The measles virus is now circulating in the community. Therefore, all those not protected by two doses of MMR vaccine are at risk of catching the disease.
"Most of the cases under investigation could have been prevented by MMR vaccine.
"MMR is a safe and effective vaccine that protects children from the most severe and unpleasant viral-rash illness of childhood.
"As long as there are children who have not had their two MMR vaccinations, there is the potential for more people to become ill with measles."
Public Health Wales and Betsi Cadwaladr University Health Board are urging parents in north Wales whose children have missed one or both of these doses to ensure their children are vaccinated with MMR.
If parents suspect their children are unwell due to measles they are asked to contact their GP or NHS Direct Wales on 0845 4647.