Dog mess stops play at Dolgellau's Cae Marian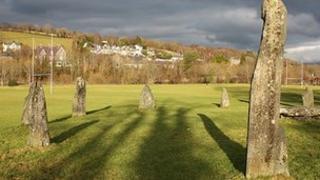 Fed-up sports clubs say dog mess problems are so bad in a Gwynedd town that rugby, football and cricket matches are being stopped.
A Dolgellau rugby club spokesman said it was frustrating that officials had to inspect the Marian playing ground before games.
He said as well as being unpleasant it was a potential health hazard.
Gwynedd council said it was possible to "name and shame" those responsible.
The Marian has been the main green space in Dolgellau for generations.
It was given in trust to the people of the town in 1811 and has been the focus of leisure activities ever since.
A "persistent minority" of dog owners are being blamed for failing to clean up after their pets in the area.
This is despite a Gwynedd council initiative including free "poop bag" kits, warning signs and dog waste bins.
During 2010-11 the council's street enforcement team issued 185 fixed penalty notices for dog fouling and litter offences.
"Despite there being dog waste bins around the Marian a number of dog owners just ignore them," said Dwyryd Williams from Dolgellau Rugby Club.
He said that officials try to inspect the pitch before games but referees sometimes have to stop games to remove faeces.
"This situation threatens the health of the junior players especially who also train on the Marian," he added.
Stephen Parry, from the football club, said they have similar problems.
"The club were recently playing a cup match when during the first half the referee had to stop the game to remove some dog mess," he said.
Local Gwynedd councillor Linda Morgan said Dolgellau Town Council had received 22 complaints about dog fouling.
"It's really worrying and is so unfair on the sports leaders and volunteers who have to pick up before every match," she said.
Gwynedd council's environment portfolio leader, Gareth Roberts, said dog mess in public places causes more distress than any other kind of environmental crime.
"There is no excuse for failing to clean up after your dog - such behaviour is totally unacceptable," he said.
Dog owners are advised to always carry plenty of poop-scoop bags as wrapped dog mess can be put in a public bin or taken home for disposal, he added.
Gwynedd council said if the public have any details of irresponsible dog owners they can contact the council's street enforcement team confidentially.