Bala nurse Elin Haf Davies sets sail across the Pacific in latest maritime challenge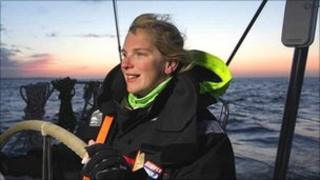 A nurse from Gwynedd who was the first woman in Wales to row the Atlantic sets sail on a 5,680 miles (9,139 km) trip across the Pacific ocean on Sunday.
Elin Haf Davies, from Bala, said she became mesmerised by the sea after her rowing adventure four years ago.
The latest trip is the first time she will have sailed rather than rowed during a challenge.
Money raised by the trip will be donated to the Noah's Ark appeal for the Children's Hospital of Wales.
She is part of a crew of 17, which is setting off on the 5,680 miles (9,139 km) journey from China to San Francisco.
The voyage is expected to take around 33 days.
"Since I crossed the Atlantic for the first time I've become mesmerised by the ocean and get a real sense of thrill and excitement from being out there," she said.
"This time I'm crossing the pacific, but I'll be sailing instead of rowing so it's quite a different challenge," she added.
Dr Davies, 35, a scientific advisor for the European Medicine Agency, is competing in the world's longest yacht race.
"It's only in the past 10 months that I've had sailing lessons so it's been a very intense period of time and I hope that the courses and training I've done will be enough to get me safely across the pacific."
Her main concern is that sailing is more "technically challenging" than rowing, she added.
The challenge will mean a 5,600 mile crossing from China across to California with the hope of sailing under the Golden Gate bridge in San Francisco.
Despite her own excitement, tinged with some apprehension and trepidation, she acknowledged that her various adventures were "really hard for my parents and family at home".
"They've very supportive but understandably worried, I think," she added.