Llandudno hoteliers worried over Conwy council window rule cost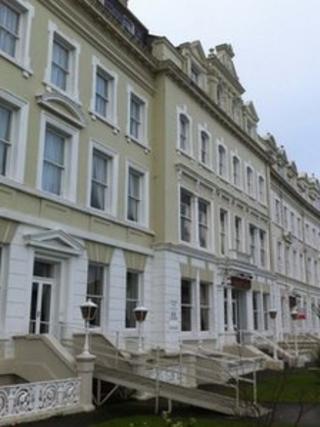 Hotel owners in Llandudno say they are worried about the cost of being ordered to remove windows which were fitted up to 30 years ago.
UPVC windows and doors are not allowed in some parts of the town, to preserve its Victorian heritage.
Conwy county borough council says it has a duty to preserve listed buildings and conservation areas.
But some people say the council has started taking an "aggressive stance" towards some windows.
The Aberconwy MP Guto Bebb said everybody appreciated that the Llandudno conservation area was crucial to the success of the town economically.
"People are aware that buildings in the conservation area should not have UPVC double glazing, and I have no quarrels with that," he said.
"The problem is that we have examples where windows have been installed for 20 or 30 years.
"And it seems that there is an increasingly aggressive stance being taken by council officials in respect of windows which have been in place for a quarter of a century."
Mr Bebb said this was causing hoteliers concern, and the council needed to work together with the hotel industry.
"If they are going to be facing an enforcement order to replace the windows, they will have to consider whether they can undertake other investment plans that they have," added the MP.
'Changed hands'
David Williams, chairman of the Llandudno Hospitality Association, which represents hoteliers, said Llandudno people accepted the town had listed buildings.
"What we don't accept is retrospective coming down hard on people," he added.
"Perhaps the properties have changed hands, and perhaps the windows were put in 20 years ago.
"So to suddenly expect expect people to rip them out and replace them with new windows costing thousands of pounds in the present financial climate is just not on."
However Conwy council said conservation areas such as Llandudno were not only designations of outstanding importance in UK terms, they also generated significant money for the regional economy.
"A vital component in the attraction of these areas, and others, is their special and authentic surviving architectural and historic interest," said Peter Jones-Hughes, the council's principal conservation officer.
"Some historic commercial buildings have had UPVC windows and doors installed without consent.
"The results of these changes have diluted the special character of historic areas and damaged listed buildings.
"As a first step the council is in the process of notifying owners/occupiers of such buildings, and areas, of the implications of the designations."
He said future enforcement action against property owners would be considered on an individual basis.