Public meeting over Llanbeblig school graveyard path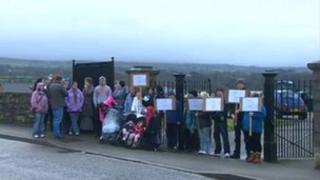 A public meeting is due to be held to discuss opposition to Gwynedd council's plans to open up a cemetery footpath for children at a new school.
Critics say opening the path at the council-run Llanbeblig graveyard would ruin peace and quiet and leave the cemetery open to vandalism.
The council says it is the only suitable route for Ysgol yr Hendre pupils, but it will listen to concerns.
A meeting will be held at the Feed My Lambs centre, Caernarfon, at 18:00 GMT.
The £9.3m primary school is due to open next month, and the council intends to use a path through Llanbeblig Cemetery for pupil access.
On Monday, about 30 protestors gathered outside the Caernarfon centre to voice their opposition.
Local resident Lesley Owen, said: "My son's grave is in the bottom area.
"I go down to the graveyard sometimes and I talk to him. I wouldn't be able to do that afterwards, because to me the graveyard will have been desecrated.
"Children play, they push each other, they've got footballs. If they topple a gravestone, who's responsible?
"If they hurt themselves doing this, who's responsible?"
Gwynedd council said the path was identified as the only suitable option for pupils walking to and from the school following discussion with local councillors.
It said the path was not intended for general use.
A spokesperson said the council was listening to concerns, adding: "The council will do everything within its power to respond to the local concerns including ensuring that the gate is locked when not in use by the pupils.
"The concerns raised will be carefully considered and we will continue to monitor the use of the path over the coming months."