Steve McQueen's bike stunt to be copied by photographer Ed Gold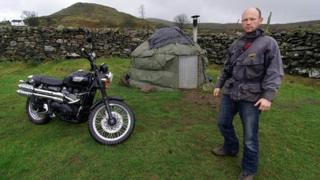 A photographer is hoping to recreate The Great Escape's iconic motor bike scene where Steve McQueen's character tried to jump a fence to escape Nazis.
McQueen fan Ed Gold, who lives in a yurt in Llanberis, Gwynedd, will attempt the stunt en route to Ukraine, where he will work on a new book.
Like in the film he will use a Triumph motorbike for the jump at Fussen on the German-Austrian border.
He hopes to rebuild a replica stretch of fence when he gets there.
He said he also wants to promote British manufacturing by using a Triumph.
Mr Gold hopes to leave for Ukraine in April to research a photography-based book on 19th Century industrialist John Hughes, who founded an ironworks and mining town in imperial Russia.
He is trying to attract funding and a publisher for the book about Mr Hughes, who was from Merthyr Tydfil.
He will break up the journey with a visit to Fussen to try to recreate the famous jump, which in the 1963 film was undertaken by stuntman Bud Ekins.
McQueen's character Hilts, having escaped from a Nazi camp, jumps one border fence before becoming tangled in barbed wire in another.
Mr Gold said: "I'll be using my own Triumph Scrambler 900, which is the closest thing [to a TT Special 650 Triumph used in the film]"
"It's going to break up the journey. It's also a tribute to Steve McQueen.
"I'm a big Steve McQueen fan. I can still remember watching The Great Escape every Christmas."
He is hoping to find a "friendly farmer" who will allow him to build a replica fence.