Colwyn Bay FC: March deadline for new stand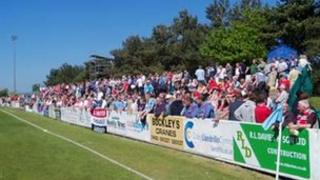 Colwyn Bay football fans are being urged to back the club in a bid to get a new stand built by the end of March.
The ambitious plan is needed as part of groundwork improvements so the team can avoid relegation from the Blue Square Bet North league.
In total about £70,000 will have to be spent, and the goal is to get supporters to raise around £30,000.
Despite the tight deadline, the club said they were confident they will get the work done in time.
"We have no option, we will do it," said the club's press officer, Mark Williams.
The club had become a "victim of our success" after gaining two promotions in quick succession, he added.
"There is a list of jobs that need doing apart from the stand, there's new seating, new turnstiles, more turnstiles, extending the changing rooms and the floodlights need upgrading," he said.
Mr Williams said that most of the work was being done over the next few weeks, but the stand was the biggest job.
He said the groundworks were already in place, but the roof had to be added and seating moved from elsewhere.
"We've had situations like this before, and we've always done it.
"This might be our toughest challenge to date, but it is achievable," he added.
A meeting is being organised for supporters, shareholders and directors in the clubhouse at 17:30 GMT on Saturday, following the home game against Halifax.