Peulwys estate in Conwy receives £400,000 facelift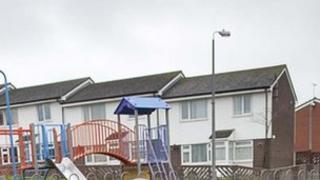 More than 250 ex-council houses in Conwy are being given a £400,000 facelift.
The homes of around 600 people at Peulwys estate in Old Colwyn are now looked after by Cartrefi Conwy housing association.
Plans include improving the appearance of the estate which overlooks the Irish sea.
Residents are also being asked what they think of a suggestion to rename the estate Parc Peulwys.
Matthew Stowe, Cartrefi Conwy's environmental improvements co-ordinator said: "This project simply would not have happened if Cartrefi Conwy hadn't been created because the council would not have been able to access the necessary funding."
The newly-formed residents group, the Friends of Parc Peulwys, have worked closely with Cartrefi Conwy and it is hoped the work will start in April.
Apart from the planting, the work will include new children play provision, raised flower beds, repaired pavements and parking and child safe areas.
Lynn Arthur, a resident since the estate opened in 1973, and manager of the community house described the scheme as "excellent".
"It will certainly make a big difference," he added.
Resident Marian Berrie said it was uplifting to see what was being planned, whilst Jackie Johnson said it was a "real shot in the arm" for the estate.
"Peulwys did have a reputation but people need to come up here and visit and see how nice it is and now it's going to be even nicer," she added.
The work is due to be complete in the autumn.
As well as the environmental work homes on the estate are also being refitted and repaired.
"Peulwys is the first estate to benefit and we will then roll it out to some of our other estates across Conwy," said senior tenant engagement officer Owen Veldhuizen.