Paralysed Bryan 'Yogi' Davies finally home in Bala after rugby injury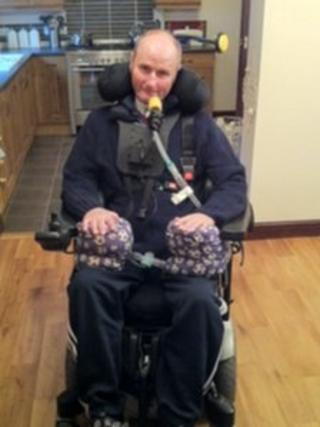 A former rugby player who was paralysed from the neck down while playing has finally returned from hospital to his Gwynedd home.
Hooker Bryan Davies, 49, from Bala, known to friends as Yogi, broke his back in a game in 2007.
After 18 months, he returned home, but suffered a collapsed lung and returned to hospital for another 18 months.
Home with his wife Sue and their children, he said he could not have done it without the people of Wales.
Donations poured in from rugby clubs across the country to allow the family to adapt their home.
He returned home last week after being in hospital in Southport.
Recalling the day he captained Bala against Nant Conwy in his retirement game, he said: "I had a choice on the field that day, whether to live or die.
"Rightly or wrongly, I chose to live, and after that I didn't bother looking back."
Still donating
He said the injury occurring during the game was the "luck of the draw," which could "happen to anybody".
He has eight full-time carers and one part-time carer, and must have at least one professional with him at all times.
He added: "I could have never come home without the help of all the people in Wales.
"Every rugby club donated money to the fund, and, fair play, there's a lot of people still donating because we don't get a grant for anything that we need.
"Except for the people of Wales, I'd still be stuck in Southport forever."