Ysgol Coed Menai school, Bangor, closure plan is backed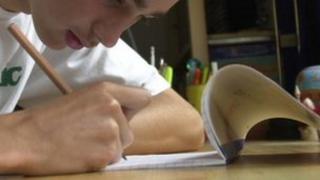 Councillors have backed plans to close a special needs school in Gwynedd.
Ysgol Coed Menai near Bangor - formerly called Ysgol Treborth - provides education for pupils who have social, emotional and behavioural problems.
Gwynedd council said it had developed plans to support the pupils at local schools, and in a new smaller unit.
But former head teacher Wil Parry Williams said earlier on Thursday that pupils' education would suffer.
He argues that the school should go back to being residential because it would offer a better quality of life, which smaller day units could not match.
"I felt a mix of disappointment, heartache and sadness when I heard the place was to close and feel it has been left to run down," he told BBC Radio Cymru.
Lack of use
He said children with chronic needs needed residential care to develop properly because it provided them with a stable environment.
"The decision to close is the wrong one and may result in children who have serious behavioural problems having to be found places at private schools, which will prove expensive," he added.
A Gwynedd council spokesman said the school stopped being a residential facility in 2003 because of a lack of use, and the plans to close the school came from a recently adopted "county-wide inclusion strategy" to improve the support available.
"The improvements which will be implemented will ensure better support for these pupils in their local school," he said.
"In addition, a new specialised unit will be established for September 2012 for the small number of pupils with severe behavioural and emotional problems."
The spokesman said there were 24 pupils who required "such support" at Ysgol Coed Menai, 10 of whom lived in Gwynedd.
'Poor condition'
But he added: "We anticipate that only four of these pupils will need educational support for complex emotional and behavioural difficulties from September 2012.
"The remaining 14 pupils come from Conwy and Anglesey, and the education departments of both councils have confirmed that they will not be sending pupils to Ysgol Coed Menai from September onwards."
Andrew Wilson, the head of additional learning needs services with Conwy Council, said the authority was aware of the plans for the school "currently housed in a listed building in poor condition".
"Consequently, we have been planning to make available a full range of alternative and appropriate provision to meet the needs of these young people within Conwy County. This provision will be in place by September 2012," he said.
Anglesey council added it was "currently considering various options in relation to alternative provision on the island".
The closure plan will be referred to the Gwynedd Council Board for the final decision.