Walking With The Wounded team to light Snowdon beacon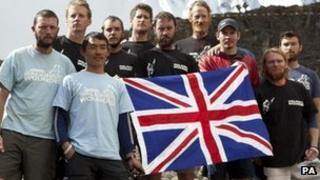 Wounded servicemen aiming to climb Mount Everest are to light a beacon on the summit of Snowdon to mark the Queen's Diamond Jubilee.
The men from the Walking With The Wounded charity will reach the summit of Wales' highest mountain on 4 June.
At the same time teams from three other charities will do the same on the UK's other highest peaks.
The servicemen aim to conquer Everest two weeks before the 60th anniversary of the Queen's coronation.
Once back in the UK they have been chosen to light the Snowdon beacon.
A group from Help for Heroes will climb Ben Nevis, Scotland's highest point, Cancer Research representatives will tackle England's Scafell Pike, while a team from Field of Life will take on Slieve Donard in North Ireland.
A total of 2,012 beacons are to be lit throughout the UK, the Channel Islands, the Isle of Man and the Commonwealth on 4 June, with the Queen lighting the final torch in London that evening.
Five soldiers injured in Afghanistan will attempt to conquer the world's highest mountain for Walking With The Wounded, which has Prince Harry as its patron.
Last year a team of soldiers from the charity successfully completed an expedition to the North Pole.
The charity's co-founder, Ed Parker, said: "These men loyally served in Her Majesty's Armed Forces, so it is a great honour for Walking With The Wounded to be involved in the celebrations of Her Majesty's Diamond Jubilee."