Tribute to Dewi Tomos, chairman of Kate Roberts heritage centre Cae'r Gors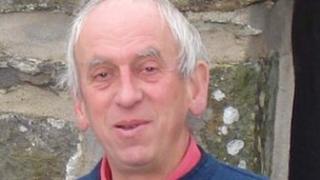 Tributes have been paid after the death of Dewi Tomos, the chairman of the Kate Roberts heritage centre at the author's childhood home.
Mr Tomos, a father-of-three and former teacher, was a well-known historian, author, naturalist, and runner.
Angharad Tomos, a board member at the heritage centre at Rhosgadfan, Gwynedd, described him as "loyal and dedicated".
His enthusiasm whilst sharing his knowledge with the younger generation was obvious, she added.
Cae'r Gors was restored and turned into a heritage centre in 2007, and illustrates rural life in the quarrying community of Rhosgadfan, which appears frequently in the author's work.
Mr Tomos, 69, worked for the centre for over 20 years, as chairman for the last few years, said Ms Tomos.
"There was no stopping his enthusiasm. He led groups of children along y Lon Wen, teaching them the names of flowers and plants, opening their eyes to a rich heritage.
"He would also tell them about the history of the area, especially about the quarrymen."
He wrote various books for adults and was always on hand to help if there was a need for a TV interview about the centre, she added.
"Dewi's enthusiasm should be the incentive for us all to carry on, but I do feel that we have lost one of the most dedicated and loyal amongst us," she added.