Police name missing trawlerman as Steven Robertson, 25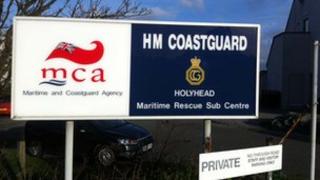 Police have named a south of Scotland fisherman who has been missing since going overboard a vessel off the north Wales coast at Anglesey.
North Wales Police said the family of Steven Craig Robertson, 25, of Dalbeattie, have been informed.
Seven boats were involved in a search after he was reported missing about 15 miles (24km) at sea early on Friday.
The search was called off later that day. Police have interviewed the boat's crew and an investigation is under way.
Mr Robertson, who was last seen at 00:45 GMT, was wearing jeans and a T-shirt but had no life jacket, and the sea temperature was recorded at 8C (46F).
The boat was stopping off in Holyhead to refuel, and then was meant to be fishing down the west coast of Wales.
It is not known why or how he went overboard.
The search covered an area of 60 sq m (155 sq km) west of Anglesey.
Holyhead Coastguard, which co-ordinated the operation, received a Mayday call and both Holyhead and Porthdinllaen all-weather lifeboats were launched at 02:35 GMT.
Trearddur Bay's Atlantic 85 lifeboat was also launched, along with Trearddur Bay and Holyhead's inshore lifeboats some time later.
Also involved in the search were a RAF Sea King helicopter, coastguards, the boat the man was on, and other vessels.