Swanland shipwreck to be examined by robot submarine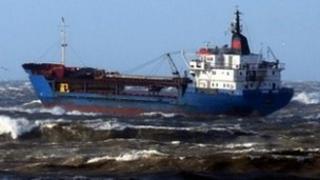 The Marine Accident Investigation Branch is to use a robot submarine to survey the wreck of a cargo vessel which sank off the north Wales coast.
Six Russian crewmen died when the Swanland sank carrying 3,000 tonnes of limestone during a storm in November.
A surviving sailor said the hull broke after the vessel was struck by a "giant wave" off Lleyn.
An exclusion zone has been established 15 miles west of the peninsula whilst the survey work is carried out.
In December a BBC investigation found the ship had been at the centre of repeated safety concerns.
'Vulnerable' vessel
An analysis of safety inspection records for the Swanland revealed a high number of failings.
Members of the crew claimed the vessel was vulnerable in rough seas because of a history of unsafe loading.
The ship's operator, Torbulk Limited, said it had been regularly inspected and any faults "promptly rectified".
Prince William co-piloted one of the helicopters involved in the rescue of two Russian crew members as the vessel was caught in a gale force 8 storm.
According to Vitaliy Karpenko, one of the two survivors from the all-Russian crew, the ship's hull suddenly cracked.
"It broke in half right across the middle. I saw it with my own eyes," he said. "We saw through the porthole that it was hopeless trying to save her.
The search for five missing crewmen was called off on 29 November.
They were named as captain Yury Shmelev, 44, chief engineer Gennadiy Meshkov, 52, second engineer Mikhail Starchevoy, 60, able seaman Sergey Kharchenko, 51, and ship's cook Oleg Andriets, 49.
Chief officer Leonid Safonov, 50, was pronounced dead after his body was recovered from the sea shortly afterward the ship sank.
The investigation is expected to take several months.
The exclusion zone has a one mile radius centred at 52-52.06N 005-05.03W.