Meeting in Pwllheli over concern winter hospital change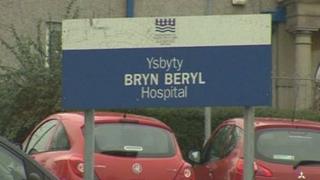 Around 500 people have attended a public meeting at Pwllheli to discuss bed closures and a cut in opening hours at the minor injuries unit at the town's Bryn Beryl hospital.
The changes are part of a series at community hospitals across north Wales.
An expected rise in more serious illnesses, staff sickness and the financial position dictate the move, according to the local health board.
The board says all changes will be temporary over the winter months.
One of the organisers of the Pwllheli meeting is Peter Reid, who says he has an insight into the problems facing the health board due to his work as a local councillor, and as a member of the local health board.
"I know things are hard for the health board but this will break Bryn Beryl's back, and it's such an important hospital for this area," he said.
"It's an hour from Aberdaron to Bryn Beryl, so it would be nearly two hours to Ysbyty Gwynedd in Bangor - this isn't fair on local people.
"I intend to fight to see that they get a fair deal," he added.
It was standing room only at the meeting at Ysgol Glan y Môr in Pwllheli.
Some people were carrying placards protesting at the Betsi Cadwaladr University Health Board's decision which comes into effect next week.
Elsewhere across the region names are being collected on a petition in Ruthin against changes at the hospital there.
According to Christine Lines the associate chief of staff for nursing with the local health board, all the changes are necessary due to "winter pressures".
"People are sicker and iller during the winter period and we need to ensure that our services are in the right place for the population of north Wales during this busy winter period," she said.
"We can assure people in Pwllheli that it's a temporary closure and that we aim to reopen the beds in April, and increase the hours of the minor injuries unit because of Pwllheli being a tourist area."
Ms Lines said she could understand people across the region being "passionate for their localities".
"But we as a health board have to make sure services are safe and sustainable and we are making changes across north Wales for this winter period.
"They are temporary changes - not part of the ongoing consultation on health provision - and done purely on a patient safety level," she added.
The public meeting will be held at 15:30 GMT on Friday at Ysgol Glan y Môr, Pwllheli.