Red Squirrels Trust Wales concern over road kill for taxidermy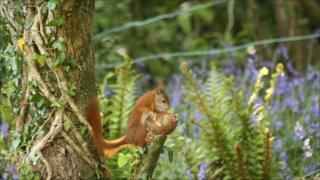 Conservationists behind a project to save red squirrels on Anglesey are concerned that road kill is being sent away to be stuffed by taxidermists.
The Red Squirrels Trust Wales wants bodies to be given to them as they are needed for research.
Dr Craig Shuttleworth, of the trust, said the carcasses were tested as a way to check for disease.
The project estimates there are currently between 400-500 adult red squirrels living on Anglesey.
"We think that people are picking up mainly road casualties and not telling us," said Dr Shuttleworth.
"In the past we've had cases of squirrels being taken for taxidermy and there have been three or four cases recently where our volunteers have gone to the site of reported remains only to get there and for someone to tell them it was picked up by someone else."
'Real value'
He said that even if people were just picking them up to "throw them in the hedge" it was important that all bodies were sent away for viral screening.
"It is of real value to us as a project," he added.
Dr Shuttleworth said there was a market for stuffed animals, but as the red squirrel was a "schedule five mammal, protected by law" he would expect any taxidermist to ask a lot of questions.
The project also needs to know where road casualties happen is that there is funding available for "rope bridges" to help squirrels cross carriageways.
"It's another frustration because we might put up a rope bridge in the wrong place as we don't know where the most road casualties are taking place," he added.
The Anglesey appeal comes in the same week as the project announced a limited cull of grey squirrels in Gwynedd.
Dr Shuttleworth said red squirrels had made their way from Anglesey to the mainland.
To boost numbers, a cull involving traps is being planned from Bangor to Felinheli and the Ogwen Valley.