Diver airlifted from Dorothea quarry in Gwynedd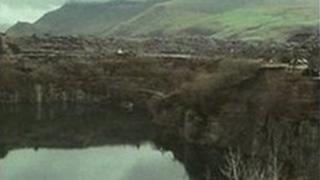 A diver who got into difficulty in a flooded quarry in Gwynedd has been airlifted to a decompression chamber by an RAF rescue helicopter.
Holyhead coastguards said they were alerted at 14:20 GMT on Wednesday by a member of the public at the Dorothea quarry in the Nantlle Valley.
The diver has suspected decompression sickness, also known as the bends.
He was airlifted to the Murrayfield Hospital hyperbaric unit in Heswall, Wirral, by the RAF Valley helicopter.
The Llandwrog coastguard shore team helped at the scene.
The flooded slate quarry is about 100 metres deep and is a popular, although unofficial, inland diving site.
More than 20 divers have been killed at the Dorothea quarry since 1990.