Plan to cull thousands of grey squirrels in Gwynedd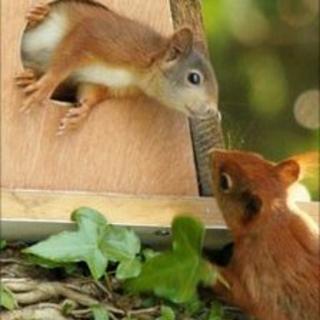 A charity has announced plans to cull thousands of grey squirrels in Gwynedd in order to boost red squirrel numbers.
Members of Friends of the Anglesey Red Squirrels (FARS) hope to replicate the success of a breeding programme on the island.
It will begin by culling greys in the Bangor area, where a small number of reds have been spotted.
Craig Shuttleworth of FARS said grey squirrels carried a virus deadly to reds and destroyed areas of woodland.
Dr Shuttleworth said red squirrels had made their way from Anglesey to the main land.
To boost numbers, a cull involving traps is being planned from Bangor to Felinheli and the Ogwen Valley.
Dr Shuttleworth said: "What we'd like to do is replicate the success we have had on the Isle of Anglesey where we began 12 or 13 years ago with a handful of red squirrels, and today they have spread right across the 720 sq km."
He said grey squirrels competed for resources with red squirrels, and spread disease.
He added: "What we'd like to do is galvanise support for the removal of greys.
"You'd be surprised how many people are actually killing grey squirrels.
"Grey squirrels are damaging woodlands, so a lot of woodland owners are getting grants to remove greys.
"Also, they are very destructive in gardens.
"What we'd like to do is increase the amount of culling within a relatively small part of Gwynedd. We're not talking about the whole county, far from it."
Asked how he would justify a cull, he said: "Not only do they out-compete red squirrels but they also predate birds eggs and they're implicated in the decline of song birds, so it's not just the red squirrel aspect here.
"There's a wider dividend, if you like, with the landscape without grey squirrels in it."
Anyone who spots a red squirrel in the area is asked to register the sighting via FARS' website.