Bangor City say farewell in style to Farrar Road ground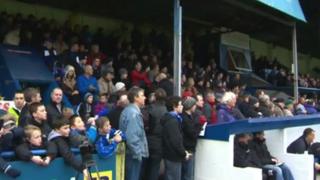 It has seen European footballing giants felled and trophies galore, but now the last game has been played at Bangor City's Farrar Road stadium.
City signed off in style, beating Welsh Premier rivals Prestatyn 5-3 in the ground's farewell clash.
After nearly a century, the Citizens are moving a few miles away to the club's new home at Nantporth on the Menai Strait.
The stadium site is being redeveloped and turned into a supermarket.
"There have been happy memories for the last 65 years I've been involved with this club," said Bangor City's honorary president, Gwyn Pierce Owen.
"My father used to take me here at the age of 12.
"He used to carry me over the turnstile and that was the last time I'd see him for the next 90 minutes.
"I'd just get lost amongst the crowd. It was thrilling.
"There was no room for us to stand, we used to sit between the touchline and the perimeter fence."
As well as being club president, Owen has been its chairman and director, a world class referee - but first and foremost, he is a Bangor City fan.
"We've done so well. We've been to Europe eight or nine times, winning the Welsh league championship on three occasions since I've been involved, beating teams like Yeovil, Boston, Barrow and football league sides in the conference," he said.
Italian 'kings'
"And of course there's Napoli - they were the kings."
That was Italian side AC Napoli in September 1962, at the height of their European dominance, drawn against lowly Bangor City in the European Cup Winner's Cup.
But the Italians' trip to Farrar Road did not go to plan.
They lost 2-0 to the part-timers, who lay sixth in the then Cheshire League, and Bangor City became the first club in Wales to win in Europe.
A second leg in Italy saw Bangor beaten, but only just, say the fans, with a 3-1 scoreline.
Under today's scoring system, that away goal would have seen Bangor progress to the next round.
Instead, there was a replay at Arsenal's ground in London - and a 2-1 defeat for the Citizens.
But it was not the final foray into European football for the club, or Farrar Road.
1985 saw Atletico Madrid, still one of the biggest clubs in the game, make their way to north Wales.
Commentator and fan Ian Gill recalled how the city came together to bring the stadium up to an acceptable Uefa standard before the match went ahead.
Community spirit
"The ground looks shabby now - but it didn't look that much better back in 1985," he said.
"When the draw came out and we had to play Atletico Madrid and we knew there would be a crowd of 6,000. It was all hands to the pump.
"It was almost like an Ealing comedy - you had to get the community spirit to make sure that the ground was up to Uefa standard.
"One of the guys who was playing in that side was Paul Whelan. Now he is a plasterer and a decorator - so he was there with his sleeves rolled up and taking part in the painting, although on a Saturday afternoon he was a star of the midfield."
But on the day, it was not to be. Bangor lost 2-0 and a further 1-0 in the Spanish away leg.
While the club's European adventures have continued, with a total of 11 competition appearances since 1995, Farrar Road's European days are long over, falling short of Uefa requirements.
"I was looking at it the other day, but it's like me now, a bit worn and decrepit, it is about time we moved now," accepted the club president.
Fitting finale
But not before one final match. And perhaps it is fitting that the last game against Prestatyn Town should be in the Welsh Premier.
Bangor were one of the league's founding members in 1992.
They won the title twice in the 1990s, but it was only in the last game of last season in April that the club won its third league championship.
In a showdown with TNS, Bangor scored the only goal to overtake their closest rivals with 22 minutes of the season remaining.
A capacity crowd gave Farrar Road a carnival send-off for Tuesday's final game.
BBC Radio Wales will be airing its own tribute, The Farrar Road End, at 17:30 GMT on New Year's Day.