Skip hire boss William O'Grady dumped waste illegally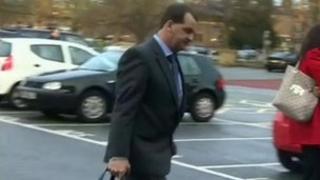 A skip hire firm boss has been given a year's suspended sentence for illegally dumping waste which saved him up to £1.5m in charges.
William O'Grady dumped about 29,000 tonnes of construction waste at two sites near Caernarfon, Gwynedd.
The charges centred on land at Bryn Awelon, Llanfaglan near Caernarfon, in 2007, and at his home at Tyddyn Whisgin, Caeathro, in 2008.
O'Grady was found guilty at Chester Crown Court after a three-week trial.
He was also ordered to carry out 300 hours of unpaid work
The charges were brought against O'Grady and two companies he runs, Gwynedd Skip Hire and WM O'Grady Haulage and Plant Hire.
Wildlife threatened
The three-week trial heard the construction waste dumped by O'Grady included bricks, plastic, wood, glass, plaster and insulation fibres.
He dumped about 27,500 tonnes at one site and about 1,500 tonnes of waste at the other.
The prosecution said the land at Bryn Awelon, next to The Foryd Bay nature reserve, was a site of special scientific interest.
O'Grady accepted there was waste on the site but said neither he nor his companies had put it there.
The court heard that the larger volume of waste at the other site was producing leachate, a polluting liquid produced by rotting waste, and puddles contained bubbles of escaping gas, believed to be hydrogen sulphide.
O'Grady said that material was not waste but a harmless aggregate used to improve land.
During the trial, the Environment Agency said the waste was contaminated and posed a risk to wildlife and people nearby.
Sian Williams from Environment Agency Wales said after he was found guilty: "It is against the law and simply irresponsible to deposit contaminated waste on farmland in this way.
"The defendant knew this but chose to carry on with his actions showing a blatant disregard for the farmer and the environment.
"These laws are there not only to protect the environment, but also to make sure there is a level playing field for other companies that operate legally. In behaving as he did, the defendant illegally undercut responsible, law-abiding waste companies."