'Too early' for Anglesey councillors to run authority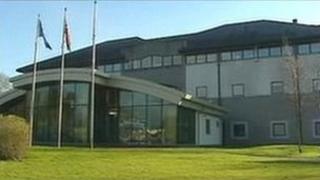 It is too early to return Anglesey council to full democratic control, say commissioners appointed by Welsh ministers to run the local authority.
They say the council still needs a "significant amount of work" to achieve a "long term sustainable recovery".
Local Government Minister Carl Sargeant sent in the team in March this year after years of political infighting.
Commissioner Mick Giannasi said there were "clear signs of improvement" but their work was "far from complete".
The action by Mr Sargeant was the first time in the UK that all executive functions had been taken away from a council.
In a second quarterly report issued after meeting this week with Mr Sargeant, the commissioners said a stable corporate governance platform had now been created at the local authority.
They acknowledged that councillors and council officers were "playing a significant role in the recovery process" but more had to be done.
Mr Giannasi said: "We have seen a genuine willingness to fundamentally change the way in which Anglesey is governed and councillors in particular are operating in a far more business-like fashion for the good of the people of the island.
"However, we would stress that our work is far from complete.
"The council still faces some significant challenges, not least the difficult task of producing a balanced budget at a time when funding is being reduced."
He added: "Our second report sets out ten key areas which we believe must be addressed if the early progress we have seen is to be turned into long term sustainable recovery.
"It's still too early to say whether that will be achieved but, as the report shows, the signs are encouraging."
'Constructive working relationship'
Mr Sargeant said: "It is clear that the commissioners are running the council very effectively and that they are taking steps to secure the council corporately.
"I am also pleased that the majority of elected members are seeing the presence of commissioners as a real opportunity to make progress."
Council leader Bryan Owen said: "There is still a lot of hard work ahead, but we enjoy a constructive working relationship with the commissioners.
"We will continue to support them until executive powers are eventually returned to us, as elected members."