Public views sought on North Wales Police stations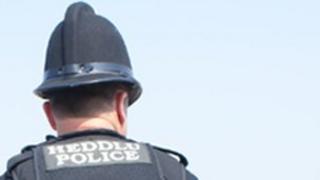 The public are being asked to give their views on plans for the future of police stations across north Wales.
The force has 49 police stations, four of which are recommended for closure.
North Wales Police Authority chair Alun Lewis said some recommendations will not be welcome, but change is needed to maintain front line policing.
Acting chief constable Ian Shannon said cutting costs of the policing "estate" could mean saving 30 police posts.
Nine of the stations are response hubs where officers clock in and are then deployed into different areas.
The 40 others are located in towns and villages across the region and generally accommodate neighbourhood policing teams made up of community beat managers (CBMs) and police community support Officers (PCSOs).
The four recommended for closure are Penrhyndeudraeth in Gwynedd, Towyn in Conwy - which was decommissioned in 2009 - and Gaerwen and Valley on Anglesey.
Others will moved to new "joint" locations such as town halls, libraries, leisure centres, council offices, fire stations or local shops.
It includes proposals to demolish and redevelop the large Wrexham Police Station, which has a landmark 14 storey 140ft (42m) tower.
The force also has corporate buildings - the force headquarters in Colwyn Bay, Force Training Centre (FTC) and Joint Communications Centre (JCC) in St Asaph and the Administration of Justice Department (AJD) premises in Prestatyn.
The draft strategy is to close some of these offices and relocate staff.
"Our goal is to have an efficient police estate which operates at a reduced cost and meets the needs of the communities of north Wales and modern policing," said Mr Lewis.
He said there are "significant changes" which "may cause concern for communities".
"We want to know about these and to discuss them in full.
"We are under no illusion that some of the recommendations will not be welcomed," he added.
Communities should appreciate the aim of the review "is to try and safeguard as many police officer and staff roles within the organisation and maintain the front line policing service as much as possible," he added.
Mr Shannon said there was no intention to reduce the policing service, and the force is aiming for a more efficient and cheaper "estate" in order to retain staff.
Chris Drew, an independent member of the authority from Llandudno, told the police authority there was a lot of positivity.
"We have police stations built in Victorian times when they didn't have radios, mobiles and the internet."
But he voiced concern about closing the station in the area's second largest town, Colwyn Bay, while spending £10m on a new one in the biggest, Wrexham.
Independent Conwy councillor Glyn Jones said he was concerned about the situation in Colwyn Bay and Llandudno.
Mr Shannon said the Colwyn Bay station was not "fit for purpose" and there was still a significant police presence in the town.
He also said the Llandudno building was too large and expensive.