Selonda UK fish farm on Anglesey 'in difficulties'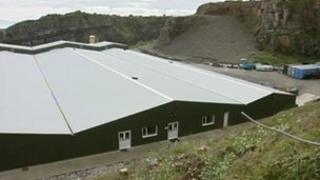 The Welsh government has confirmed that a state-of-the-art fish farm on Anglesey is facing difficulties, believed to be financial.
Selonda UK, a Greek-owned company, produces 1,000 tonnes of sea bass at its plant at Penmon near Beaumaris.
Concerns have been raised on a social media website about the future of the 2m fish at the plant.
The Environment Agency says it is monitoring the situation with the Welsh government taking the lead.
A Welsh government spokesperson said "The Welsh government is aware of the difficulties at Selonda UK's north Wales plant."
An Environment Agency Wales spokesman said it was aware of the difficulties at Selonda UK.
"We are working with the company to understand their plans for meeting their environmental obligations," he added.
The fish farm was established on Anglesey in 2002.
Last year people living near the site complained about the noise coming from generators at the fish farm.