Anglesey council senior staff shake-up to save money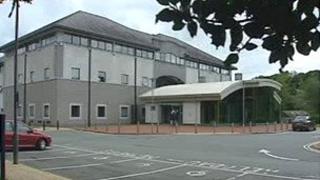 A shake-up in senior management is to be carried out at troubled Anglesey council.
Commissioners sent in by the Welsh government to run the authority said the reorganisation would save money and help "deliver effective services".
One commissioner, Byron Davies, said the review was not a reflection on staff but was needed to modernise the way the council operates.
It is not yet known how many posts will be affected.
"Anglesey must seek to change the way it works in the light of the severe financial challenges it faces," said Mr Davies, a former chief executive of Cardiff council.
"Changes to the council's organisational structure and cost efficiencies are vital if we're to keep pace with modern local government and deliver effective services to the island's citizens and communities."
Criticism from regulators
The commissioners said the review would also recommend strengthening how the authority's corporate services function, which provides many of the council's central support services, to address criticism from regulators and peer reviews.
Nearly three years ago, the Wales Audit Office (WAO) said problems between politicians and management at the top of the council were affecting the way the authority operated.
Local Government Minister Carl Sargeant then appointed commissioners to run the authority.
They propose to implement the senior management changes next year and start discussions behind closed doors on Thursday.
Mr Davies said: "As commissioners, we believe that organisational restructuring will represent an investment in Anglesey's future and, in time, allow this authority to fully engage in the Welsh government's regional and national collaboration agenda on efficiency and cost savings."