Gwynedd council debates policy on seagull 'menace'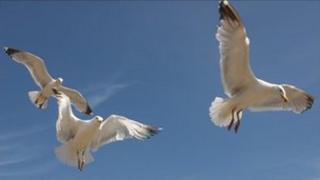 Councillors in Gwynedd are to discuss possible measures to control nuisance seagulls, with officials warning that doing nothing is not an option.
Currently, Cardiff council is the only authority in Wales to offer a chargeable service to tackle gulls.
The seabirds are protected by law, although eggs can be destroyed or replaced with decoys under licence.
Gwynedd action could include a council-run control team and a preferred contractor to carry out the work.
A number of local authorities in Wales provide general advice to homeowners and businesses on legal measures to discourage gulls from nesting on rooftops, ledges and chimneys.
Spikes
In Cardiff, the council can provide pest control officers, for a fee, for commercial premises with accessible roofs.
Eggs are sometimes replaced in nests with plastic decoys.
However, Cardiff officials do not provide a service for domestic properties or provide "proofing" counter-measures such as spikes or netting.
In Wales, the Lesser Black-backed gull and the herring gull are thought to be the two main species of involved in nuisance behaviour.
Nesting can be noisy and generate significant amounts of waste. Nests can block flues, creating a risk of fires or poisonous fumes.
Parent birds will often swoop on people and animals either to protect chicks or seize food.
Gulls will grow to a considerable size, with a wingspan of around 85cm (32in).
Breeding pairs will generally build nests in March or April which may typically contain three or four eggs. Chicks will normally hatch in late May or June.
In Gwynedd, councillors will consider a number of options:
Doing nothing - although council officers warn this "should not be considered"
Acting in an advisory role - providing information and guidance
Carry out a limited service, possibly including "proofing" work
Offer a full service including egg removal and nest destruction
Appoint an approved contractor
A report to councillors suggested that a charge would be levied for any gull control service.
It warned that if the council funds measures to tackle gulls, the costs could be significant, although targeting areas particularly affected the seabirds, such as Caernarfon, was an option for consideration.