Call to rename A470 stretch after Royal Welsh soldiers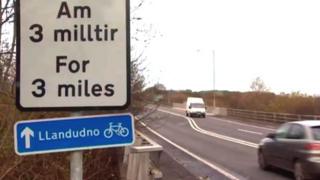 A call has been made to name part of the A470 in north Wales 'The Royal Welsh Way' to honour the army regiment.
Campaigners say they are now set on raising £2,000 for new street signs on the section in Conwy county borough.
The idea has won the backing of a local politicians, after being put forward by Llandudno Junction councillor Mike Priestley.
If approved, the newly named stretch would run for two miles towards Llandudno from the A55.
"We've had nothing but positive messages of support for the idea, and I'm determined to push it forward," said Mr Priestley, who represents the nearby Marl ward on Conwy council.
He said the suggestion had come from one of his constituents who had served in The Royal Welsh and felt more could be done to recognise local links with the regiment.
Reflecting 'pride'
It has also won the backing of another member of the council, Merfyn Thomas, a former major in the Royal Welch Fusiliers, which became part of the newly formed Royal Welsh in 2006.
"I think it is a very good idea because you have got a lot of men who have served with the battalion who have come from this part of the world," said Maj Thomas.
"What is in the name A470? It is far better to be called something to show how proud we are of the regiment.
"There are lots of people with Royal Welsh associations that would be pleased to donate to this worthwhile cause."
It would not be the first time that a stretch of the A470 in the area has been renamed to reflect local links.
The section of the road heading into Llandudno itself is officially known as Wormhout Way, to reflect the town's twinning with Wormhout in north-east France.
Campaigners said the newly-named stretch would link up with Wormhout Way and lead to the junction with the A55 expressway, known locally as the 'Blackcat roundabout'.
As well as raising the money for new bilingual signs, the name change would need to win the approval of council planners.
Mr Priestley said he was now in the process of drawing up the official application to the council.
He has also set up a page on the social media site Facebook where members of the public can register their support.