Colwyn Bay £161m VAT accused will not give evidence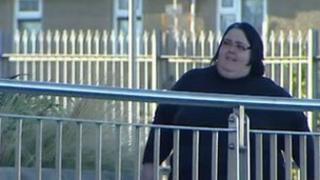 One of two sisters accused of trying to reclaim £161m of VAT which they had never paid has decided not to give evidence in her defence.
Roberta Vaughan-Owen, 37, and her sister Andrea, 42, both of Colwyn Bay, Conwy, deny nine charges.
Judge Niclas Parry told the jury they could draw an adverse conclusion from the younger sister not going into the witness box if they considered it fair.
Meanwhile, the court heard that the elder sister was in hospital.
Judge Parry told the jury at Caernarfon Crown Court about Andrea Vaughan-Owen's health problems.
He said the court was waiting for the results of routine blood tests.
The jury heard that she had visited a hospital on Sunday night and had seen a GP on Monday.
'Not her fault'
On Tuesday, she returned to a hospital but was allowed to attend court to continue her evidence, but later went to hospital for a third time.
She could not be discharged, the court heard.
"That's clearly not her fault. It's not to be held against her," Judge Parry told the jury.
The prosecution has not cross-examined Andrea Vaughan-Owen.
When Judge Parry decided to move to Roberta Vaughan-Owen's case, her barrister Louis French said there would be no evidence.
The trial continues.