Question mark on renal unit plan at Ysbyty Alltwen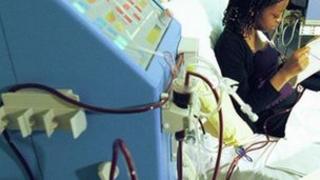 A question mark hangs over the future of plans for a permanent renal unit at Ysbyty Alltwen in Tremadog, Gwynedd, as a result of increased projected costs.
The Betsi Cadwaladr University Health Board (BCUHB) said its business case to the Welsh Government needed more work due to a number of issues.
These include ground conditions, local ecology and the unit's position next to Snowdonia National Park.
Gwynedd Kidney Patients' Association said it was concerned.
There is currently a small temporary unit for eight patients at Ysbyty Alltwen.
Building work on a new, larger, dedicated renal unit was due to take place this autumn, but nothing has been done.
A spokesman for BCUHB said the business case for the unit had been submitted to the Welsh Government, but there were issues.
"The Alltwen site poses a number of challenges in relation to the ground conditions, local ecology and its position adjacent to a national park which have implications for the design, planning consent and construction of a new unit," he said.
"These have increased the projected cost of the scheme and the Welsh government have asked that further work be done in relation to meeting value-for-money requirements, especially given the economic situation and the effect on the funds available to support new capital developments."
Ken Jones from Gwynedd Kidney Patients' Association said he was disappointed.
Satellite unit
He questioned why it had taken so long to find out about any potential problems.
"They have gone through this process as they built the current hospital - there is also a large bypass nearby.
"This is an excuse, and I hope that they will move forward and build the unit despite this because they have promised people.
"This is a small satellite unit, and you have to ask why these issues have been raised now," he added.
A spokesperson for the Welsh Government said the case was going through the "scrutiny process" by senior officials in the department for health, social services and children before being submitted to the health minister for consideration and approval.