Petition calls to save Becws Gwalia bakery in Llangefni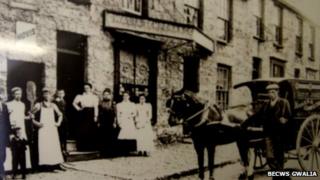 Three thousand people have signed a petition to try to stop the closure of a bakery on Anglesey which been in operation for more than 100 years.
Yvonne Roberts, owner of Becws Gwalia in Llangefni, told BBC Wales she has been given three months to leave the premises.
Ms Roberts, who currently employs 12 people, says she cannot afford to move the business to a new location.
Landlord Gwen Dale Jones has declined to comment, citing legal reasons.
Notice to quit
Ms Roberts took over the bakery in 2008 in order to save 10 local jobs.
It now employs 12 people, including the head baker who has been there for 15 years.
A letter from the landlord arrived in mid-October telling Ms Roberts to vacate the premises.
"All I'm allowed to say by my solicitor is that I've been given three months notice and I'm fighting to keep the bakery," said Ms Roberts.
Following the notice to quit, customers visiting the bakery shop have been invited to sign a petition to save the bakery from closure.
According to a message on the bakery's Facebook page, the site is to be turned into flats.
However, landlord Gwen Dale Jones would not confirm the reason for retaking possession of the premises.
She told BBC Wales: "Because of legal reasons, I'm not in a position to make a comment."