Anglesey councillor numbers set for 25% cut under plan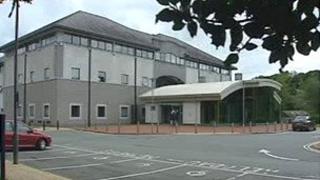 The number of councillors at a troubled local authority could be cut by a quarter from 40 to 30 as part of a major shake-up.
The Local Government Boundary Commission for Wales has published its draft proposals for the future governance of Anglesey.
The council is run by Welsh government commissioners after critical reports.
The plans, which will go out to consultation, are likely to mean May's council elections will be delayed.
An extraordinary meeting of the council will discuss the changes, which will need to be approved by the Welsh government.
The local authority is currently being run by Welsh government appointed commissioners due to the authority's poor performance in the past after years of political infighting.
Under the boundary commission's plan, 11 new multi-member electoral divisions would be created. Eight would be represented by three councillors, and the other three by two councillors.
Interim chief executive Richard Parry Jones said: "These proposals, if accepted, would represent both a significant geographical and cultural change for the electors of Ynys Môn."
May elections
The public and interested parties can submit their views on the changes during a consultation which runs until 3 January.
Mr Parry Jones added: "I must emphasise this is a consultative process and an opportunity for you to influence the island's future governance and so it is important that all interested parties have their say."
It is likely that final recommendations will be presented to the Local Government Minister Carl Sargeant by spring 2012.
But because he will not make a final decision on what changes, if any, are needed until mid 2012, council elections on Anglesey may be delayed.
Voters in the other 21 Welsh councils will go to the polls in May but elections on Anglesey could be delayed by up to a year.
Nearly three years ago, the Wales Audit Office (WAO) said problems between politicians and management at the top of the council were affecting the way the authority operated.