Vaughan-Owen sisters' 'mistake in £161m VAT case'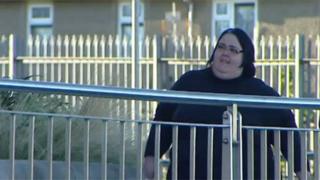 Two sisters accused of trying to claim back £161m in VAT which they had never paid say they had no intention of receiving cash from the Inland Revenue.
Roberta Vaughan-Owen, 37, and her sister Andrea, 42, both of Colwyn Bay, Conwy, told investigators in prepared statements they had made a mistake.
A jury heard that the sisters, who claimed to be recruitment consultants, did not understand the form.
They deny nine charges. The case at Caernarfon Crown Court continues.
The court was told the sisters thought it was vital to demonstrate the potential future turnover of their company.
The younger sister estimated the turnover after looking at the amount Liverpool Football Club charged for advertising - £75,000 for three minutes.
They are accused of frauds on working tax credit, mortgage and insurance before the bid to reclaim VAT.
Richard Branson
The court heard how the sisters had sought business mentoring from Richard Branson.
The Virgin boss had written to Andrea Vaughan-Owen, now 42, and her sister Roberta, 37, saying: "I was impressed with your letter and as someone who also suffers from dyslexia I understand how difficult it can be sometimes."
In the 2003 letter, signed in his absence, he also urged them: "Don't give up. You can achieve anything if you put your mind to it."
Andrea Vaughan-Owen told the jury in evidence that she left school with an O-level in cookery.
She was ambitious but made no money from her business ideas.
"It's not in our nature to give up," she said, however.
She added :"It doesn't matter which barriers I face, I will try to overcome them."
She had been a post office worker until 2001 and last month married for the third time.
Asked by her QC Lee Karu about contacting Richard Branson, she said :"As you can see he wanted to help us."
Private education
The court has previously heard how the sisters lived "beyond the dreams of honest working people".
They shared a £400,000 home in Colwyn Bay, rented out a second property, paid for private education for Andrea Vaughan-Owen's children and expressed an interest in items such as a £315,000 Rolls Royce, the jury was told.
It was alleged the sisters got money from anyone they could, including banks, insurance companies and the state.
Both deny furnishing false information by submitting a claim for a VAT refund of £161m in 2008, registering companies for VAT purposes and attempting to obtain invoices to substantiate a claim for a VAT repayment, insurance fraud, and being involved in fraudulent activity to obtain tax credit payments.