Chernobyl controls on north Wales farms may be lifted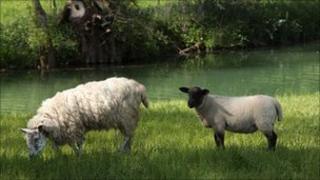 Restrictions on hundreds of Welsh sheep farms dating back to the Chernobyl nuclear disaster could soon be lifted.
A consultation has been launched on whether to remove restrictions on 334 north Wales farms affected since 1986.
The Food Standards Agency (FSA) says recent tests have shown that the risk from radioactivity is now very low.
Nearly 10,000 UK farms were affected, but restrictions only remain in Wales and on eight farms in Cumbria.
Contamination was found on some UK upland areas after a radioactive plume blew across Europe in the aftermath of the explosion at the Ukrainian plant.
The FSA says it wants the views of farmers.
Restrictions were placed on farms to prevent sheep with unacceptable levels of radioactivity - predominantly radiocaesium - from entering the food chain.
Any sheep and lambs grazing on high ground have to be brought down to lower-lying areas to allow radiation measurements to decrease, before they can be sold.
The FSA said safety concerns "are now very low," and controls were lifted in Northern Ireland in 2000 and in Scotland in 2010.
Glyn Roberts, a farmer in Betws-y-Coed in Conwy county, said the main priority was to ensure that consumer confidence in Welsh lamb remained.
"If you go back 25 years, confidence in the Welsh lamb was very low and the industry has been working very hard to raise that confidence," he said.
"From my point of view, I don't want anything to be done to the detriment of the confidence that there is in Welsh lamb at the moment.
"Welsh lamb does carry the PGI (protected geographical indication) status which more or less is on a par with Champagne in France and that's the most important thing in this issue."
A recent survey of radiocaesium levels in sheep on restricted farms was conducted by the FSA, to assess the potential exposure of consumers to radiation.
'Timely'
The survey showed that levels of radiocaesium "rarely exceed the permitted limit, and even for more highly exposed consumers the risk is now very low".
The FSA says that if the current control measures in England and Wales were removed, the risk to consumers would remain very low.
"The control measures are now no longer considered proportionate to the very low food safety risk and are no longer required to comply with European food safety law," said a spokesman.
The Welsh government said it supported the FSA's approach, adding it was "timely that a consultation is undertaken to consider whether these restrictions should be lifted".
"It's at the point when the risk is so low it's not worth worrying about," Prof Hugh Pennington, microbiologist and emeritus professor at Aberdeen University, told BBC Radio Wales.
"The risk to health is so small it's less than the maximum level allowed to have X-rays or travelling on a transatlantic jet."
Restrictions will remain in place during the consultation, which closes on 8 February, 2012.