Conwy roads 'deteriorating faster than can be fixed'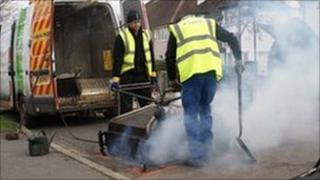 A total of £11m is needed to put Conwy county's roads in good condition, but the council says they are deteriorating faster than they can be fixed.
The council says after two harsh winters the money would be needed to remove all defects, but funds are in short supply.
Councillors meet later on Wednesday to discuss how to cover the cost.
A report warns that money is not available and in the near future it may start prioritising major roads.
That could lead to long delays for repairs to minor roads such those on housing estates.
The council, which is responsible for maintaining more than 1,700km (1,000 miles) of road, said that just to keep them as they are would need an extra £2m a year.
Across Wales, research has revealed a £200m gap between the amount councils need to spend to bring roads up to scratch, and planned spending this year.
Conwy has paid out in excess of £1m in compensation over the last five years due to potholes, road defects and pavement problems.
A road safety charity has warned councils in Wales face escalating compensation costs unless they take a new approach to road repairs.
Conwy councillors will be asked to consider how to make the best of the money they can afford.