Ceremony marks building of new Bangor City FC ground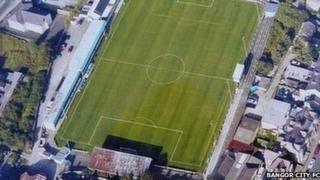 After years of delays, a ceremony will mark the construction of the new Bangor City FC ground.
A plaque will also be installed on Wednesday to commemorate the building of a new Masonic hall on the outskirts of the Gwynedd city.
The current ground and hall are being demolished to make way for an Asda store at Farrar Road.
Developer Watkins Jones said the club would move in January after the final Farrar Road game on 27 December.
"Work on the Masonic hall, which is in Britannia Park, has already begun and a plaque will be placed to commemorate the construction as part of the redevelopment at Farrar Road," said Dave Roberts, the design director with the Watkin Jones Group.
Redevelopment
The Masonic hall should be finished by May 2012.
Farrar Road has been home to Bangor City FC since the 1920s, but the Welsh Premier League champions have been looking to move for the past 10 years.
The new ground, Nantporth, will meet league requirements with a capacity of 3,000, including 600 covered and 200 uncovered seats.
In August, the club's chairman, Dilwyn Jones, said there were also plans to deliver a stadium that meets the criteria for Uefa competition.