Coventry council River Conwy disturbance case dropped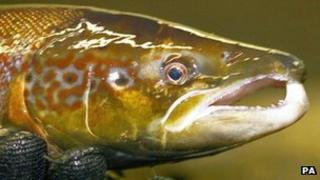 A council accused of organising a rafting trip which may have disturbed salmon or trout spawn on a north Wales river has been cleared by a judge.
Coventry council was being prosecuted by Environment Agency Wales.
It was alleged children staying at an outdoor activity centre it owned disturbed wildlife on the River Conwy near Betws y Coed, Conwy, last year.
The council denied the charge and Judge Andrew Shaw at Llandudno Court ruled that it could not be held responsible.
The prosecution, which had sparked an internet debate among canoeists and anglers, was brought under the Salmon and Freshwater Fisheries Act.
The agency dropped the proceedings ahead of a planned two day trial.
Judge Shaw said it had crossed his mind that, in the troubled economic climate, taxpayers may not be happy about the prosecution.
He awarded costs from central funds.
He said: "Proceedings were commenced by the Environment Agency in good faith, subsequently the defence flagged up issues that have been accepted by me."
'Particularly vulnerable'
A spokesman for Environment Agency Wales said after the hearing: "Wales has some fantastic rivers and lakes that should be enjoyed in a safe and responsible way, without harming the water or the wildlife that lives there.
"At this time of year, when salmon and trout are spawning in many of our rivers, they are particularly vulnerable to any disturbance.
"While we are disappointed with the verdict we now have clarification on what evidence is required to bring a prosecution in matters such as these.
"It is helpful that the court has given us this guidance.
"It should be noted that the judge believed the agency had acted in good faith and should not be discouraged from considering future prosecutions where appropriate.
"We will continue to work with all parties to make sure that our waterways are protected so they can be enjoyed by generations to come."