Anglesey council power deal issue costs schools £27,000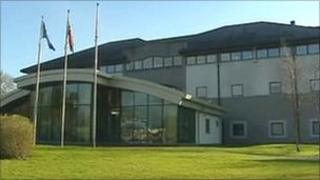 A north Wales council says "procurement problems" meant a quarter of its schools have had to pay an extra £27,000 for their electricity.
Anglesey council says it will pick up the bill for the extra charges to 15 schools on the island, saying it is "disappointed" over what happened.
The authority did not renew the contract earlier this year which led to schools being charged a higher rate.
One school was charged £3,000, double its anticipated bill.
The council confirmed that 15 schools were affected by the electricity contract problem.
Flagged up
They have not confirmed the total amount involved but a document obtained by BBC Radio Cymru's Post Cyntaf programme - a letter on behalf of the Anglesey Headteachers' Federation - refers to a total of £27,000.
Alarm bells started ringing when schools found they were no longer being sent regular invoices relating to their electricity supply.
The discrepancy came to light in September when some schools received substantially higher bills than would be normally expected for the period in question.
The issue was brought up at a recent regular meeting of the Anglesey Headteachers' Federation, and then flagged up with the local education authority.
Ysgol Llangoed was charged £3,000 - around £2,000 higher than usual.
Ysgol Gymunedol Moelfre was charged £3,000 - around £1,200 higher than anticipated - although the difference in the the case of another school - Ysgol Bodorgan - was described as negligible.
When Arfon Jones, head of the school in Moelfre, contacted the supplier, British Gas, he was told that the local authority had not renewed the contract with the company and that is why they were being charged the emergency rate.
'Difficulties'
He said: "I had a bill which was more or less double what it is was supposed to be.
"I think the lesson is that possibly every school should be made aware of the length of the contract and lobby the authority two to three months before ther contract expires."
The letter makes clear the council's pledge to reimburse the affected schools, who are advised by the federation, "as the matter has been resolved ... schools should settle their electricity bills as soon as possible, and monitor monthly reports to ensure their share is reimbursed".
The council's property section negotiated the supply deal.
A council statement says: "As a result of difficulties relating to procuring an electricity supply agreeement, 15 schools had to pay an emergency tariff between April and May incurring additional costs.
"We have reassured the schools they won't lose out financially as a consequence.
"The education department is disappointed that a new agreement was not in place before April 2011. The department's central budget can cope with the additional costs on this occasion."
Commissioners have been running the council since earlier this year.
Local Government Minister Carl Sargeant brought them in after years of political infighting on the island.