Wallaby Joey caught after Welsh Mountain Zoo escape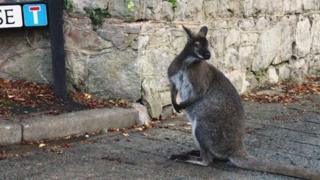 A zoo has explained how a wallaby hopped to freedom before being spotted along a suburban street.
Two-year-old Joey escaped through temporary fencing erected at the Welsh Mountain Zoo at Colwyn Bay in Conwy county while the wallaby enclosure is refurbished.
Joey was rumbled when he hopped onto a nearby street which is home to the zoo's education officer.
She raised the alarm and Joey was safely returned last Thursday.
The zoo has now secured the temporary fencing to prevent a repeat escape by the wallaby, who was born at the zoo.
It is not known exactly how long Joey was on the run because he had escaped before the zoo keepers arrived for work.
Zoo spokesperson Jen McDonald said: "At the moment we're redeveloping the wallaby and Welsh mountain goat enclosure which they share.
"The enclosure has temporary fencing. Joey found a weak spot and managed to get out.
"He was literally about 30 seconds from the zoo. Our education officer lives on the road that Joey went to explore so she raised the alarm with the zoological director.
Cul-de-sac
"Five minutes later the collection manager, the head keeper, the assistant head keeper and a number of other keepers were down at the site and managed to recapture Joey."
She said Joey was fine after his excursion and is back in his enclosure, which is also home to five other members of his family.
A woman picking up a colleague to go to a conference in mid Wales also saw Joey.
Kirsten Foster-Alexander, 45, helped herd him away from traffic into a cul-de-sac while the team from the zoo made its way to the scene.