Man drove with ex-partner on Jaguar bonnet after TV row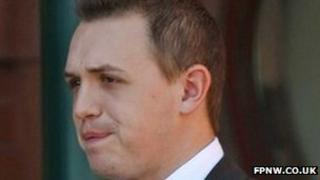 A man drove nearly half a mile (0.8 km) to a police station with his ex-partner on the bonnet of his Jaguar after rowing over a plasma TV, a court has heard.
Holly Kift, 22, later waved down a police officer down, in tears and holding a windscreen wiper.
Llandudno magistrates heard Jason Dicken, 29, of Llandudno Junction only drove "carefully" at 15mph.
He was convicted for dangerous driving and given a 12-week suspended sentence.
Dicken was also given a one-year ban.
The court heard the pair rowed about a 40-inch (102cm) plasma television which he took from her mother's home, believing it was his.
The previous hearing was told Ms Kift threw herself on the bonnet of his Jaguar and refused to get off.
'Risk of serious harm'
Rhian Jackson, prosecuting, said Ms Kift waved down a police officer last November, and she was shaking, crying and holding a black windscreen wiper.
Part of the Jaguar's journey was caught on CCTV and a forensic expert put the average speed at 15mph (24km/h).
Dicken told police he put the TV in the back of the car and drove off with Ms Kift on the bonnet, but drove carefully and she was not at risk.
Court chairwoman Nina Brown told Dicken: "The offence is so serious that only custody is justified because although there were no serious injuries there was the potential risk of serious harm."
His solicitor, Chris Dawson, said he had driven with Ms Kift on the bonnet because he thought he and his passengers were in danger, and he headed for Llandudno police station.
He must also complete 150 hours of unpaid work, and pay £250 costs, and must sit a driving test before driving again.
Dicken was cleared of assaulting Ms Kift.