MS student may leave Anglesey for England for treatment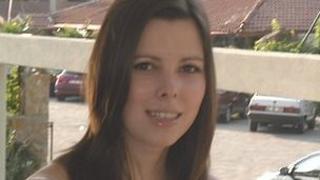 A woman with multiple sclerosis (MS) says she is considering leaving Anglesey for England because of the lack of specialist help in the area.
There is only one nurse available in north Wales, and Lowri Rowlands, 20, from Anglesey, is concerned about cuts.
The Welsh government said work was under way to improve services for people with neurological conditions.
The MS Society in Wales has delivered a petition to the Welsh government asking it not to reduce the number of nurses.
There are 11 other specialist MS nurses in Wales, who are all in south and west Wales, while Powys has none.
"There's only one MS nurse in north Wales that I can see," said Miss Rowlands, who finishes her studies at Bangor University next summer.
"Even though he does a good job, it's hard for him to keep on top of everyone. I only get to see him once every three months.
"When I graduate I'm wondering if it's better for me to move. I know there's a good service in Chester. There's more MS nurses.
"I'm born and raised in north Wales and it would be a shame if I had to move."
MS is a chronic neurological condition which affects one in 700 people in Wales.
The MS Society, which has a 500-signature petition, said health boards were currently under pressure to review their work forces and make savings and is concerned that MS specialist nurses are at risk.
'Necessary support'
Judi Rhys, director of MS Society Cymru, said: "For most people living with MS, the specialist nurse is one of the few people who actually understands what they are going through.
"A generic nurse, health visitor or even GP would not be able to provide the necessary support and ensure that the condition was being effectively managed."
She added: "Every day MS specialist nurses are saving the NHS money, but we are worried that they are still seen as an expensive luxury.
"We would like the Minister for Health and Social Services [Lesley Griffiths] to review the savings generated by MS specialist nurses, prevent health boards from cutting posts and instead invest in further nurses, in order to treat people living with MS for less money in their own homes."
A Welsh government spokesperson said: "Work is currently underway to improve services for people with neurological conditions. Specialist nurses form an integral and important part of health services.
"It is for individual health boards to ensure they have the correct skill mix and staff levels to support people who suffer with multiple sclerosis."