Family tribute to Llanberis man after Chester death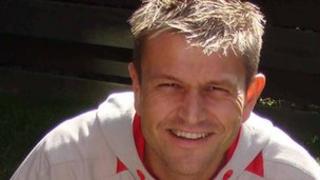 Police say the death of a Gwynedd man, found dead after a night out in Chester, is unexplained.
Keen runner Kevin Edwards, 37, who had been reported missing on Sunday, was called "amiable" and "friendly" by his family in Llanberis.
His body was discovered near a post office in Chester at 09:00 GMT on Monday. Formal identification is expected later.
The father-of-two had been out on Saturday night with friends.
His father, the Gwynedd county councillor for Llanberis, Trefor Edwards said his son had been staying in Chester for a night as part of a group of five friends.
"He'd rung and said he'd get a train back and he'd be home teatime Sunday," said Mr Edwards.
"I thought it was odd when he didn't ring or text us during the day on Sunday, then about four o'clock we got a phone call from one the lads he was with saying he was missing."
Mr Edwards said his son's friends identified him from CCTV pictures coming out of a club, and police in Chester used dogs and a helicopter to search the city.
"They were staying at the Travelodge next door to the club. He should have turned left, but he turned right.
"Police told me the post office building had scaffolding around it, and an unsecured gate.
"Maybe he rested against the gate and it gave way. There was a drop and he fell, hitting his head."
The family are travelling to Liverpool on Tuesday for the formal identification process.
Kevin Edwards has one sister, Cheryl, and is father to a 17-year-old boy and an eight-year-old daughter.
He worked with the Tai Eryri housing association.
"He got on with everyone, he just had a way of dealing with people," said his father.
"He ran a lot, taking part in the Snowdon race and (Snowdonia) marathon. Although he didn't run the marathon this year because he's torn a ligament in the Snowdon race."
Cheshire Police said officers had been called to St John Street in Chester at just after 09:00 GMT on Monday after a report of "a man found deceased near the post office".
"The circumstances surrounding the death of the man are unexplained at this time," said a spokesperson.