Darren Frost memorial skate bowl opens in Bangor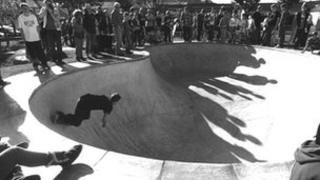 A city's first skate area in memory of a teenager who died in a cycling accident has officially opened.
Friends and family of Darren Frost, 18, who died on Boxing Day 2009, had campaigned and raised money for the skate bowl in Bangor, Gwynedd.
His mother Hazel Frost said it was worth all the hard work.
Next for her is a sponsored walk up Kilimanjaro in Tanzania next year to raise funds for similar skate venues.
"It means so much to see the amount of people who are using it, it's been worth the hard work," said Mrs Frost.
Another skate area has been earmarked for the Caernarfon road area of the city. Mrs Frost is focused on raising cash for more facilities with a walk up Kilimanjaro next year, and has even moved home to save money for the trip.
"I've paid for the trip, but now need to pay for the flight, so I've moved to a smaller property this weekend so I can save for that," she said.
She said training was going well, with preparation including a night-time trip up Snowdon.
"We went up about three o'clock in the morning because I'd never see the sun rise on the mountain, and also I needed experience of walking in the dark because part of the walk up Kilimanjaro will have to be at night."
Mrs Frost said she was offering to work in exchange for support from businesses.
"I'm willing to put my hand to anything. I'm not afraid of hard work," she said.
Darren died after a collision with a car as he cycled from his work at the JJB store in Shrewsbury, on his way to his father's home in Brockton, Shropshire.