Llandudno hotels mark 50 years at the queen of resorts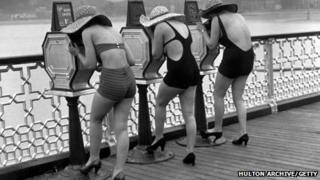 An association for hoteliers, guest house owners in the town called the queen of Welsh seaside resorts is celebrating its 50th anniversary.
When Llandudno Hospitality Association was set up, annual week-long holidays in the UK were common, an en-suite room was only for the rich and hotels and guest houses were mostly only open in the summer.
The association, which has 80 current members, said over the years it had adapted to changes in tourism, tastes in food and a whole raft of new regulations.
Llandudno became famous as a seaside holiday destination during Victorian times.
In 1961, what was then called the Llandudno Hotel and Restaurants Association was set up by hotelier Jim Williams to provide an "united voice" for the industry.
Mr Williams believed there was nobody to speak up when issues affecting tourism were discussed on a local or national level.
A notable early success was the association's involvement in a campaign to quash a "selective employment" tax which charged business owners for the number of employees.
"A delegation went from Llandudno to the House of Commons and the tax was abolished," said his son David, who is the current chairman of the association and still runs the family hotel.
The association's name was changed about 10 years ago to reflect the wider tourism sector and now includes attractions and retailers.
When the association was founded the trend was still for weekly holidays, running from Saturday to Saturday, and full-board.
"The vast majority of bookings came in just after Christmas and January," said Mr Williams.
"This was before package holidays, and apart from one or two of the higher end hotels there were no en-suites."
Package holidays in the 1970s hit trade and businesses had to re-invent themselves.
"It changed and people were taking their main holidays overseas and began to take shorter breaks here.
'Tightening belts'
"Full-board went too, resulting in just dinner, bed and breakfast being offered as eating habits changed."
Throughout this the town, which is famed for the easily accessible golden sands, continued to be a shopping destination and a base for people wanting to tour north Wales.
"The changes have meant that people take breaks at different times and hotels and guest houses stay open all year round, which provides continuous employment," said Mr Williams.
"Other changes have been VAT coming in, new fire precautions, the disability act, and en-suites.
"It's meant a lot of investment, and as the standard of people's homes has risen so have the expectations of visitors."
Social changes have also brought less welcome innovations to some in the business, such as online review sites.
"We accept there will always be the odd complaint, but wish guests would raise any problem during their stay as given the chance things can then be rectified."
The current financial situation is also affecting trade.
"Like everyone else we are tightening our belts.
"We've survived all the difficulties over the years even real-life storms such as a huge rain storm which flooded Llandudno 15 years ago."
Some hotels had to close following flood damage, and the foot and mouth outbreak in 2001 also affected trade.
"For the future I think events are very important, and we've got the GB Rally here next week.
"It gives people a reason for visiting here, but having said that we have a loyal following of people who return every year."
The association is celebrating its milestone with an anniversary dinner on 18 November.