Tributes after death of 'remarkable' Gladys Good at 111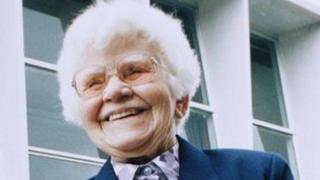 Tributes have been paid to a retired teacher who has died at a nursing home in Conwy at the age of 111.
Gladys Mary Good, who was born in Burslem in Staffordshire in March 1900, was believed to be the oldest woman living in Wales.
She had lived in her own home in Deganwy until she was 110 after moving there when she retired 50 years ago.
Her niece Mary Tagg said "She was a truly remarkable lady and will not be forgotten by anyone who met her."
Miss Good put her long life down to her love of walking, the countryside and tending the garden, she said.
The teacher taught at Packmoor Infant School in north Staffordshire for 42 years.
Physiotherapist
When she retired in 1961 she moved to north Wales with her mother Marion who was born in the area.
Mrs Tagg said: "She loved the countryside, the views, north Wales and all that goes with it."
At the age of 93 Miss Good was knocked down by a car but worked hard to walk again.
"The physiotherapist had never seen anything like it," she added.
Last year she moved into the High Pastures nursing home in Deganwy where she celebrated her 111th birthday in March.
A spokeswoman for the home said: "It was a pleasure to have her here."