Colwyn Bay pier redevelopment plans go on show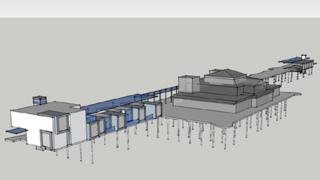 Views are being sought on multi-million pound plans for the redevelopment of Colwyn Bay's historic pier.
The consultation is part of the process a not-for-profit group, Shore Thing, must go through prior to submitting a bid for grant aid from the Heritage Lottery Fund.
The proposals include a restaurant, revamped pavilion theatre and shops.
However, the issue of who owns Victoria Pier has yet to be resolved.
It has been closed since its former owner was made bankrupt in July 2008.
The pier then came under the control of a trustee in bankruptcy, who has since given up any interest in the Grade II-listed landmark. It has now passed to the Crown Estate.
People or groups with an interest in acquiring the pier can submit their bid to the Crown Estate's solicitors.
The former owner, Steve Hunt, said in August that he believed the pier should now come back to him.
But Conwy council has formally tabled its interest in the pier and is supporting the proposals by the volunteer directors behind Shore Thing.
'Fresh impetus'
They are putting the plans on show at the Bay View Centre on Tuesday and Wednesday as well as hosting other events with possible stakeholders.
Chair Jay Martin said the proposals include a panoramic restaurant with views over the bay above a revamped pavilion theatre as well as a glass walkway revealing the pier's architecture.
Other plans include a dozen retail units at the front of the pier for use by other businesses and an education and history centre.
Victoria Pier was opened in June 1900, and over the years has hosted performances from artists as diverse as Morecambe and Wise, Harry Secombe and Elvis Costello.
Mr Martin said now was the time to upgrade the pier as redevelopment of the seafront was under way as part of an £8m coastal defence improvement project.
"This work has given a fresh impetus so now is the time to do it," said Mr Martin.
"The majority want to see something done with the pier."
Shore Thing's business case is being drawn up by tourism and heritage consultants.
They were commissioned after the community enterprise group secured £35,000 in funding from RWE NPower Renewables and Colwyn Bay Town Council which contributed £5,000 towards the total.