Gwynedd schools: council urged to save Ysgol y Parc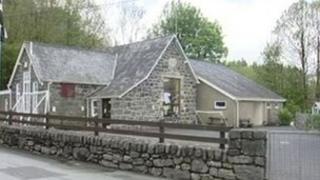 Campaigners representing nearly 50 Gwynedd schools have written to county councillors urging them to overturn a decision to close a small primary.
Councillors voted in May to close Ysgol y Parc near Bala which has 20 pupils, saying it was too small to be viable.
But Gynghrair Ysgolion a Chefnogwyr (The League of Schools and Supporters) is calling on Gwynedd Council to reconsider its decision.
The authority said the closure was decided followed detailed discussion.
Ysgol y Parc won a 12-month reprieve in July, but is still set to close in August 2013.
The council has said the closure of Ysgol y Parc will save around £70,000 per year and strengthen pupils' Welsh language use.
But Gynghrair Ysgolion a Chefnogwyr, which represents 48 schools, urged the council to look again at "models of co-operation" between schools in the same catchment area, suggesting it could be cheaper than closure.
The local authority is bidding for £7.7m from the Welsh government towards the £10.2m plan to reorganise education in the Berwyn catchment area.
In the letter to councillors, the group asked: "In a period of recession, and considering the extra costs of transporting children, of expanding another school to be able to receive them and of community regeneration in the Parc area, would it not be wiser to keep Ysgol y Parc open?
"Models of co-operation between the school and the other rural schools have been mentioned, which would enable the school to be kept open at a much lower cost than any model which includes its closure.
"No one can now deny that the financial cost of closing the school will be a great deal higher than the cost of keeping it open."
Gwynedd Council said councillors voted in May to reorganise education in the Berwyn catchment area in a decision that could lead to an investment of £10.2m.
Councillors voted in favour of establishing a lifelong learning campus in Bala to replace Ysgol y Berwyn, Ysgol Beuno Sant and Ysgol Bro Tegid in the town, as well as upgrading Ysgol O M Edwards and investing in Ysgol Ffridd y Llyn and Ysgol Bro Tryweryn.
The council has also agreed to upgrading work at Ysgol OM Edwards.
"In the same meeting, councillors voted in favour of a proposal to close Ysgol y Parc, and to provide places for Y Parc pupils at Ysgol OM Edwards, Llanuwchllyn," the spokesman added.
"At present there are 20 pupils attending Ysgol y Parc which is located three miles from Ysgol OM Edwards."
He said the decisions followed a period of detailed discussion.